Becoming a Prisoner of War
After the Fall of Malaya and Singapore
"All of a sudden there was silence"...

Japanese Invasion Currency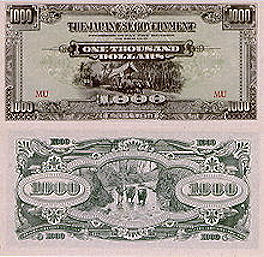 The Japanese began their attack on British Malaya the same day as Pearl Harbour. Following the fall of Malaya - Japanese invasion money was issued in Malaya - Malaysian script was in dollars (Straits or Malayan dollars). In 1942 the Japanese issued paper script currency of 1, 5, 10 and 50 cents and 1, 5 and 10 dollars. The 1, 5 and 10 dollar notes initially had serial numbers; these were later omitted. In 1944, inflation lead to the issuing of a 100 dollar note. In 1945, a replacement note 100 dollar bill was issued as well as a hyper-inflation 1,000 dollar note. The 1942 series of notes, including the 50c and 1, 5, 10, and the 1944/45 100 dollar all contained the text [The Japanese Government] "Promise To Pay The Bearer On Demand". The 1944 100 dollar replacement note no longer contained this message.
The name MALAYSIA was used on a pattern coin of 1942 - that name had been in common use since the 19th Century, and the Osaka Finance Ministry in Japan has verified that this pattern coin had been minted at the Osaka Mint, and that the name MALAYSIA was the Japanese name for that region, at that time.
Prisoner Identification
"We marched to Changi"...

| | |
| --- | --- |
| | |
| Robert Kelsey's offical Australian Imerial Forces 'dog tags' - they read "Kelsey.R.H.S. - QX 6461" | Japanese POW identification - the only badge officially permitted to POWs - it reads "Australian PW - QX 6461" |
Payment of Wages
The Japs paid the prisoners a "wage", part of the wage was "banked" on our behalf for the day when the enemies of Japan surrended. A "Loan to Govt." was our forced contributation to the Jap War Effort and the "IJA" deduction was for our "board and lodging". From the final sum the important deductions were made - men's hospital fund - pay for those too sick to work & be paid by the Japs.(see under "Loan to Govt. - Shimo Sonkurai") The "additional deduction" in Apl - June 1943, was on the Burma Road & levied by our own Lt. Col. Kappe who hit on this scheme to augment his spending power - Senior Officers were not asked to make this donation, Junior Officers were ordered to pay it.(from Bob's diary)
Pay books were admisistered and filled out by the relevant British or Australian Pay Officer.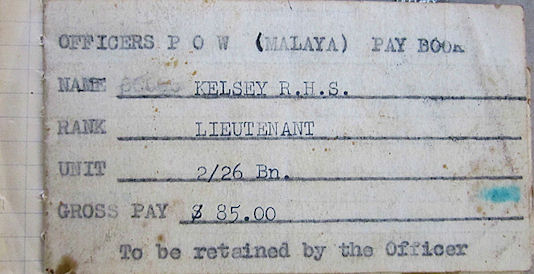 Bob's Jap pay book - entries for Great World, Havelock Rd., Changi, Shimo Sonkurai, Sonkurai, Tanbaya Hosp., Kanchanagoi and Changi. Bob's Australian pay book survived his internment and the last entry where he was paid by the Australian Army was made at Bt. Tiga - pay amounts from arrival in Wavell are given in Australian pounds, shillings and pence but payment was made in Malay dollars.


"Our first job on the railway was carrying ballast"...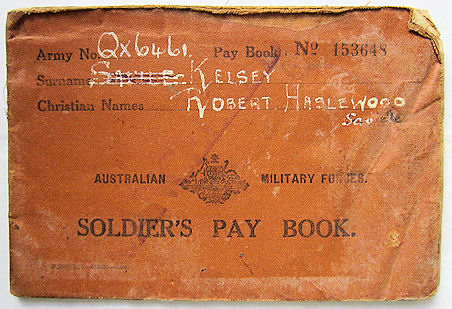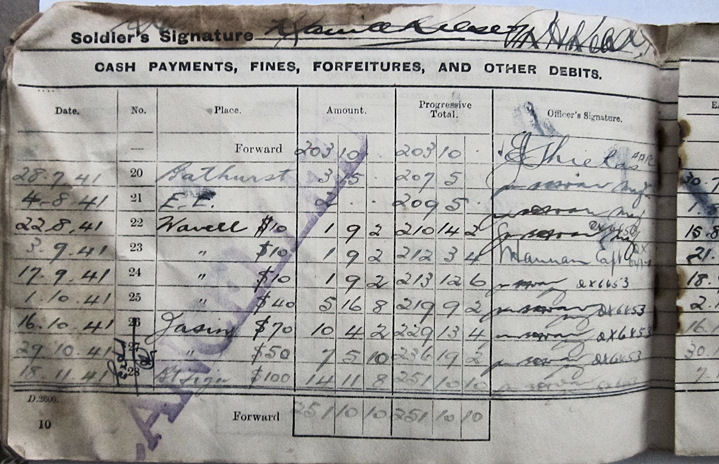 In the Medical Records section of Bob's pay book, he is recorded as being in hospital only 5 times on the Burma Road, at Shimo Sonkurai AIF Camp Hospital, Sonkurai Camp and Tanbaya Hospital Burma - this entry is signed by Bruce Hunt whom Bob held is such high regard.