Bathurst

The 2/26th. moved to Bathurst in February 1941 for Brigade training with the other Battalions, the 2/30th from New South Wales, the 2/29th from Victoria and the 2/15th Field Artillery from New South Wales. The most noticable thing about Bathurst for the 2/26th. was the cold temperatures - a culture shock for the boys from North Queensland. It was ironic that the Brigade was training for possible warfare in the freezing temperatures of Russia and the Eastern Front but were then sent to the tropical jungles of Malaya!
"A" Company
Lt. Col. Boyes
C.O. 2/26th. Bn.
Major Hoare
C.O."A" Coy.
Lt. "Scotty" Uroe
"A" Coy.
Sgt. Claude Griffin
7 Plt. "A" Coy.
Original Sergeants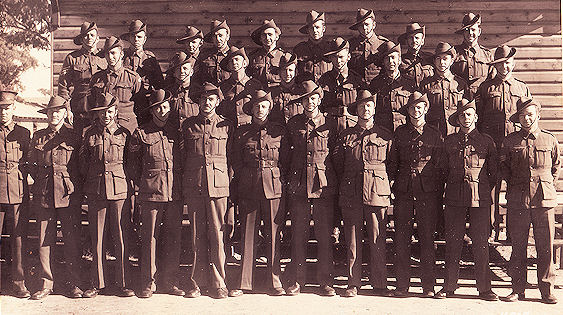 L to R, Top: Livingstone, Rozelle, Dawson, Gray, Tippits, Taylor, Wilson, Roberts and Sheppard.
Middle: Blee, Sexton, Andersen, Campbell, Biggs, Cooper, Mathews, and Mooney.
Bottom: Armour (WO), Neale, Uroe, Wright, McPherson, Green, Spears, Shields, Hodel, Smith. J. and Frazer.
4 KIA, 7 Died POW, 7 Commissioned.