Grovely Military Camp

The Grovely Military Camp in Brisbane, extended through most of the Grovely area. The western boundary extended from Kedron Brook, along Mooney Street and crossed the railway line to Samford road. The first troops (some from 31st Battalion, Miowera Camp, Bowen) arrived in Grovely Army Camp in June 1940. One of the first tasks was to clear trees, dig out tree stumps, etc to make way for tents and parade grounds. The soldier accommodation consisted of tents, usually with 6 to 8 to a tent. Everyone slept in tents - the tents had a wooden floor and beds were the standard palliasse (a mattress filled with straw). Beds had to be folded up and tents cleaned every day. Training was conducted along the bush roads around the area. The only buildings which were not tent fabrications were the Administration centres, the cookhouse and the mess.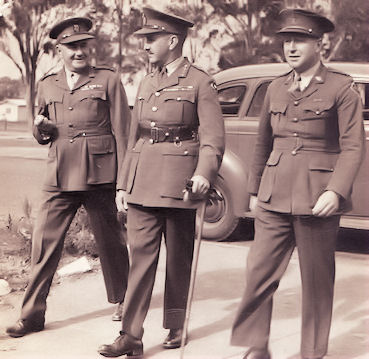 L to R - Brig. J.J. Murray, Lt. Gen. J. Laverack and "the boy" - Maj. Arthur Boyes. In November 1940, Lt. Col. Arthur Harold "Sapper" Boyes was appointed the 2/26th Bn. first Commanding Officer. (KIA 1942)
2/26th. Batallion AIF
The 2/26th Battalion was formed at Grovely Camp, Brisbane with the appointment of the first Commanding Officer, Lieutenant Colonel Arthur Boyes, a Duntroon graduate, on the 1st. November 1940. A shortage of camp accommodation, however, prevented the battalion assembly as a unit until the 26th. November 1940, when the first of its personnel marched into Grovely Camp. The 2/26th drew its recruits from Queensland and Northern New South Wales, however the vast majority of the Officers, N.C.O's and other ranks were Queenslanders who had volunteered to serve in the A.I.F.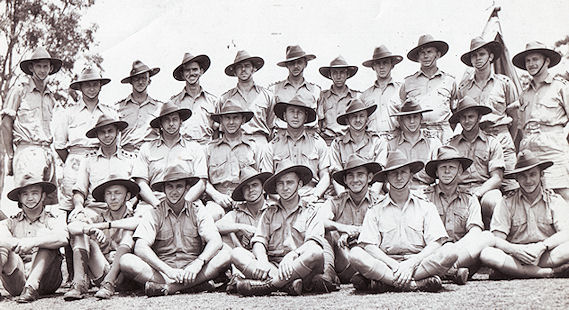 1940 - Nucleus Officers 2/26th. Bn. - Lt. Kelsey fourth from the left, back row
Original Platoon Commanders - 1940. Lt. Kelsey left front.
The "Toughening"
At dawn every day the officers and men of the 2/26th. were doing Physical Training (PT) then drill. This was to toughen them up for war - ironically most of them had been "Hobos" as the "great depression" was not yet over. Being "on the wallaby trail" meant walking from town to town looking for any sort of work or odd jobs that resulted in payment with money or in kind - mostly the latter. Failing that the Hobos would call to the Post Office, collect their "dole", buy some food and "backie" and if they did not move on, the police moved them on. They then walked towards the next town - so in reallity most of the men of the 2/26th. were already as tough as nails.
Above: Official photos of PT and drills - Grovely Camp behind.
Below: Actual PT and cross country running.
Redbank Camp
The 2/26th. Bn moved from Grovely to Redbank Military Camp from January 1941 to February 1941, before moving south to Bathurst, NSW. With almost daily cross runs the battalion became known as "The Gallopers", a name that they proudly claimed as their own.